Marlborough Forestry for Sale
14 Listings Showing 1 to 14
$1,750,000 Plus GST (if any)

Enquiries over $670,000 Including GST (if any)
Ideal pension fund opportunity.....This property is located just 8 km from Renwick and has been recently harvested with a logging ...
Wairau Valley
39a Guernsey Road
$165,000 Plus GST (if any)
Situated within the Leatham Valley forest growing district, this 1224 hectare property has approximately 232 hectares of mainly Pinus Radiata. ...
Wairau Valley
1237 Leatham Road
Negotiation
LIfestyle, investment, or retirement - or maybe a mix of each (your choice). Close to SHW1 and Picton. ...
$530,000 Plus GST (if any)
Set on the Northbank of the Wairau River near Blenheim Manuka Island offers a superb opportunity to invest in aquality ...
Wairau Valley
State Highway 63
Negotiation
Situated within easy reach of Blenheim this dedicated forestry block supports Approx 41.6 HA s primarily of Pinus Radiata (Planted ...
Blenheim Central
945 Taylor Pass Road, Wither Hills
$695,000 Plus GST (if any)
• 22.80ha of predominantly north facing land – no house * Great fishing, crayfishing and paua from the beach. Wild ...
Marlborough Sounds
Motukina Point, Tory Channel
$485,000 Including GST (if any)
Situated in a well-recognized forestry growing region. This 19.61 hectare pine plantation was planted in 1997, has been thinned to ...
Blenheim Central
3778 Waihopai Valley Road
$350,000 Plus GST (if any)
The opportunity here is to own a slice of a paradise to build your dream lifestyle. Approximately 140 acres of ...
Blenheim Central
787 Waikakaho Road
$299,000 Plus GST (if any)
71.8660 ha (177 acres) situated in the upper Wairau Valley. Higher rainfall area giving good annual growth. Second rotation with ...
$295,000 Plus GST (if any)

663ha freehold in six titles. Located within 50km of several processing mills and 75km to the port of Picton. Total ...
Waihopai Valley
- Waihopai Valley Road
Negotiation
Very close to the State Highway and with excellent road structure and two developed skid sites. Land area is 42.9ha ...
Rai Valley
150 Ronga Road
$300,000 Plus GST (if any)
Mature forest ready for harvest. Forest approximately 40 hectares. Assessed tonnage of approximately 17,200 (as at 2013). Plus additional 5 ...
Port Underwood
Lot 2 Tumbledown Bay Road
Negotiation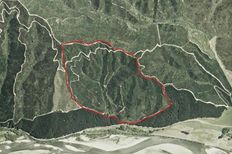 This 110.3 hectare Pinus Radiata forest in the high growth area of the Northbank, consists of 31.3 hectares freehold and ...
Blenheim Central
. Bartletts Creek
$1,150,000 Plus GST (if any)
This 54 hectare property is situated in the highly popular forestry growing area of the Waikakaho Valley, about 15 minutes ...
Tuamarina
787 Waikakaho Valley Road
$300,000 Plus GST (if any)
Advertisement
Advertisement