Gisborne Lifestyle Section for Sale
14 Listings Showing 1 to 14
Gisborne is a wonderfully diverse and sophisticated region; the beaches and surf are world class, the lakes and rivers and ...
Negotiation
Auction Location: in rooms, 66 Reads Quay (unless sold prior). Gisborne is growing nicely, you will have heard all the positive ...
$165,000 Including GST (if any)
Surrounded by native bush, much of it protected by QE11 covenants, all day sun and with your own stream, this ...
$175,000 Including GST (if any)
If you are looking for a change in lifestyle and perhaps have the urge to build that dream home you ...
Patutahi
Lot 2/26b Repongaere Road
$129,000 Including GST (if any)
This 5.626ha Vineyard is just a short drive from the hospital boundary, nestled along the rise of the hills overlooking ...
$585,000 Plus GST (if any)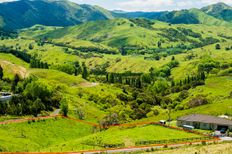 • A quality subdivision not to be ignored * Reports and covenants available for prospective purchasers * These sections are ...
Outer Kaiti
Lot 13/Kauri Park Gaddums Hill Road
$118,000 Including GST (if any)
We consider ourselves extremely lucky to live in this spectacular region; the weather is sunny and balmy. The beaches are ...
Negotiation
Jobs done: Found beachside section at affordable price Found a friendly community that has a grocery store, two primary schools, ...
Tokomaru Bay
76 Waima Road
$119,000 Including GST (if any)
These one hectare sections will allow you to create the country living you have always wanted with the convenience of ...
Hexton
- Back Ormond Road / Hansen Road
Negotiation
With 3 sections to choose from 5225sqm, 4517sqm, & 4473sqm, just minutes to the beach, a very popular summer holiday ...
Gisborne Coastal
- Kaiaua Road
$80,000 Including GST (if any)
Entrepreneur, Family Trusts - land bank for the future or develop now! Situated in one of Gisborne's best locations. Land ...
Hexton
1 Cameron Road to Joanne Street
Negotiation
Located on rich fertile free draining soils of Matawai, is this 3.18 Hectares of productive land. Currently in place are ...
Negotiation
Vendors have moved on and want this property sold! Situated on the outskirts of the city on Nelson Road is ...
Riverdale
Lot 1 Nelson Road
Negotiation
This 38.7 hectares of land right on the edge of Gisborne City has frontage down to the Pacific Ocean and ...
Negotiation
Advertisement
Advertisement